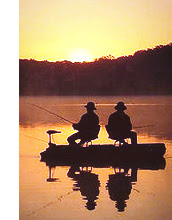 The following article was sent to us from Stephen Ministry.

I recently ran into a friend who told me he was in the process of sending the four Journeying through Grief books to a colleague whose father had died earlier this year.

One day, my friend heard from his colleague, who thanked him and shared that every August, he and his father would go on a fishing trip together. That week, he had suddenly realized that this year would be the first time he and his dad wouldn't be making that fishing trip together, and it hit him hard.

He had just received the second Journeying through Grief book—which goes out three months after the loss—and he opened it to find a chapter called "The Year of the Firsts." The chapter describes how, during the year after a loss, people are often blindsided by many "firsts"—the first time experiencing an event, occasion, or special day without their loved one—and that those firsts often lead to painful feelings.

The colleague told my friend that he found the chapter very helpful and that these words were especially affirming:
As you relate to people you know who have lost a loved one, be aware that they too will most likely experience their own "year of the firsts." You can be a help to them by listening and being a caring presence during those times.
May God bless you and your ministry of care.
In Christ,
Joel Bretscher
Stephen Ministry